Power to the Partners!
Hundreds of successful Clearfly partners span the nation, empowered by a relationship that provides innovative SIP trunking and other voice services to their valued customers along with a steady revenue stream, single-invoice billing and unparalleled technical support and education.
Clearfly listens to its partners and responds to their needs. We're here for them 24/7 as they manage lead creation, prepare quotes, sign up customers, open support tickets, monitor maintenance schedules, control phone numbers, verify service territory and so much more.
"Clearfly people are really responsive when we call.
We couldn't be happier. We have a true partnership."
Keith Studt, President
Independent Telecommunications Corp.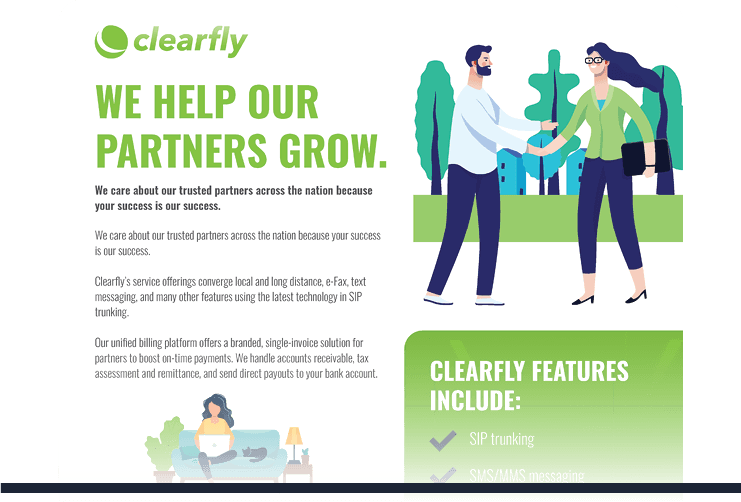 Learn how to add a steady revenue
stream by offering our exceptional
services to your customers.
Download our customer brochure to see
the great things that partnering with Clearfly
can do for your customers.
A Powerful Partner Portal
Our intuitive Clearfly Portal provides partners with deep access to account data and network status as well as order and project status. It reports real-time switch information for adjusting trunk quantity, call forwarding, call blocking and registrations.
See Incident Reports
Check Maintenance Schedule
View Voice Group Information
Test Local Calling Areas
Review International Rates
Update 911 Addresses
Enable SMS/MMS
Review Sales & Payout Dashboards
Going The Extra Mile For Our partners
Making The Deal
Our team assists in lead creation and preparing quotes that land customers for our clients through straightforward pricing and exceptional voice and technical services.
Onboarding Boost
We're eager to work with partners to sign up customers, deliver seamless integration with a variety of phones systems and provide quick turnaround on installs.
Strong Support
Partners appreciate our recurring commissions, presales assistance, regular training sessions and a dedicated Clearfly Portal that empowers them in many ways.
Just The Ticket
When issues arise, we open support tickets on customers' behalf and offer direct access to technicians for troubleshooting – and links to FAQs for partners.
A Portal To Learning
The Clearfly Community bulletin board on the Clearfly Portal is the place for partners to give feedback, request new features, post detailed technical questions and answers, stay up on all new developments and connect directly with experts and colleagues in the industry.
The portal learning doesn't stop there! Our knowledge base library offers lessons – everything from how Clearfly call-fraud detection works to how to manage auto pay. The portal also hosts our schedule of valuable training sessions. Be sure to check out our YouTube channel for tutorials that help partners make the most of the portal.
Want to see for yourself?
From Coast To Coast
Across the nation, business owners are saving up to 60% over traditional voice services when they choose Clearfly SIP trunking solutions.
Want to know if we can serve your area?
Give us a call.
Want more info on becoming a partner?
Fill out the form below and we will be in touch.